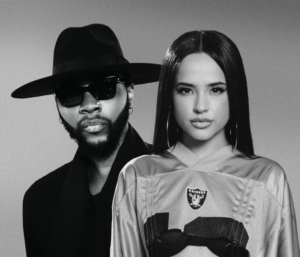 Fresh from his headline performance at Essence Festival earlier this month, and on the back of her last single 'La Nena', global music superstars KIZZ DANIEL and BECKY G have joined forces for a killer remix for one of 2022's biggest afrobeats tracks 'COUGH (ODO)'. The original single has become a massive fan-favourite across the world in the nine months since it was first released, going on to garner over 400 million plays online. Now Kizz Daniel has enlisted the award-winning singer, songwriter, and actress Becky G to breathe new life into the glorious afrobeats offering.
Originally produced by Philkeyz and Blaisebeatz (Chris Brown, Wizkid) as part of last December's EMPIRE compilation album Where We Come From (Vol. 1), the new 'Cough' remix brings Kizz Daniel's excellent afropop sensibilities, witty lyrics, and earworm chorus with it, while Becky G adds her beautiful vocals and Latin music flair to take the track to exciting new heights. Speaking about the inspiration behind the original track last year, Kizz Daniel shared how "for this song, I wanted to highlight the feeling of new love. The song itself is energetic and celebratory, and it really captures what it's like to fall for someone new" – this new Becky G remix brings that message further to life.
ABOUT KIZZ DANIEL
With over a billion streams under his belt, two Shazam chart-topping singles, sold-out tours across Africa, North America, and Europe, and over 25 million social media fans, Kizz Daniel is one of the leading figures at the forefront of representing afrobeats on the world stage. The enigmatic musician is the epitome of an all-round entertainer with a magnetic tone, captivating lyrics, alluring stage and screen presence, and an undeniably infectious musicality, which are just some of the irrefutable characteristics of all his songs, cutting across afrobeats, pop and R&B music, from chart-topper 'Buga' to fan-favourite 'Cough (Odo)' to new hit 'Shu-Peru', and everything in between.
Already coming off of a very eventful 2022 that saw the global music sensation achieve huge milestones of being crowned the most streamed artist in Africa for the first two quarters of the year, releasing the biggest afrobeats song of the summer with 'Buga', and performing at the 2022 World Cup opening ceremony in Qatar with Diplo and Calvin Harris, 2023 is already promising to be an even bigger year for Kizz Daniel, with the success of 'Shu-Peru', his Essence Festival headline performance, and this new collaboration with Becky G offering just a glimpse into what listeners can expect from his highly-anticipated upcoming album via FlyBoy INC and EMPIRE.
CONNECT WITH KIZZ DANIEL
Instagram: https://www.instagram.com/kizzdaniel
Twitter: https://www.twitter.com/kizzdaniel
TikTok: https://www.tiktok.com/@greatvado