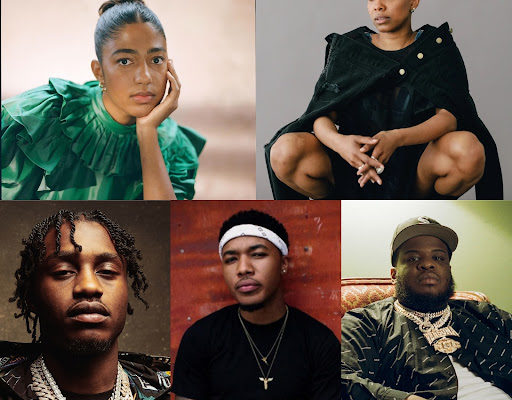 Lyrics for Under a Picture Vol. 6
Words By Miki Hellerbach
On the track "Champagne Poetry" by Drake, he raps the line, "Under a picture lives some of the greatest quotes from me." Drizzy has become known by many as the social media caption whisperer. That said, the art of crafting the perfect lyric for fans to copy paste underneath a photo is not limited to the 6 God's prowess. Each week, artist's insert lyrics into their songs worthy of everyone's flexworthy use. For this new Gen B Magazine weekly column we will search far and wide for each release week's most noteworthy captionable lyrics. Then share them here coupled with astute analysis of how they exist in their song's storyline and how they may exist beneath your visual social media posts.
"Walkin' through the city like Diddy, get my cheesecake"- Maxo Kream
Song: "Don't Play With Shawty Ass" by Maxo Kream
Making the Band flashback anyone? Infamously mogul Diddy asked cast members of his group building show to retrieve him a slice of famous Junior's cheesecake to prove their dedication back in 2002. Houston rapper Maxo Kream remembers and seems to have the same craving while venturing around the big apple. Obviously this as a caption would be perfect for a flick whilst holding a slice or eating one, but really any quintessential NYC in motion pic will do. Pose mid stride on the lower east side and use this caption to certify the fly.
"You got me on my tiptoes"- Hope Tala
Song: "Tiptoeing" by Hope Tala
Can't quite reach the top shelf? UK singer Hope Tala has the one liner just for you! If someone grabs a cute candid shot of you trying to reach that one kitchen ware item you need to complete the cook, use this to complete the post. A perfect compliment to the shot of you dripped down in an apron and clogs mid reach. The song is about cautiously proceeding in a relationship, but the caption could be about cautiously pulling that perfect bowl off the shelf without it falling and breaking.
"You should get the picture I done painted"- Lil Tjay
Song: "Not In The Mood" by Lil Tjay feat. Fivio Foreign & Key Flock
Were you someone who picked up a painting hobby over the pandemic? Bronx bred rapper/crooner Lil Tjay wants to serve you lines of assistance to flex your new portraits. Whether it be a Bob Ross styled copy job or an original landscape this caption will serve you well flicked up next to your work in your favorite mom jeans.
"They gon' ask for me, like the Wi-Fi"- Cozz
Song: "Fortunate" by Cozz
Sometimes IG posting is just for fun, other times it's to show you are about your business. If you grabbed a fresh new pair of blue light glasses because your laptop screen time is at an all time high due to the grind, Dreamville rapper Cozz wants to help you flex your progress. New pics for your website uploading of you typing away with a thick white coffee mug beside you with the words "no one cares work harder" on it? Wow does this line help enhance the vibe placed neatly beneath that shot!
"We cloud people, we live in gray"- Jamila Woods
Song: "Tides" by Bonobo feat. Jamila Woods
From smoke clouds to real clouds this caption has dual usage potential. Chicago songstress Jamila Woods has provided a line perfect for brand new outside fall sweater pics on a gray cool day, but also for chillin' inside puffing loud or hookah or both sitting in a room full of smoke. Clever possessive lyric here that reaches a broad audience and signifies a communal feel. Seasonal and recreational at the same damn time!