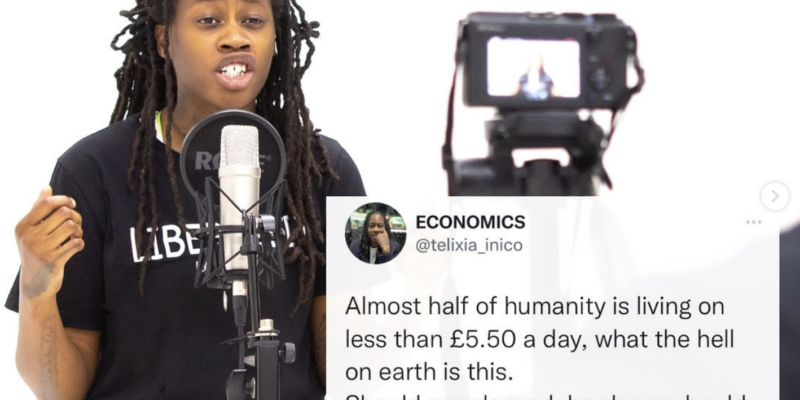 Spoken word artist and South London poet Telixia Inico has released a hard-hitting piece exploring the current economic crisis the UK finds itself in post-pandemic, including unemployment and poverty in the young, gang crime and money wars – the message is an extremely powerful one that aims to get more people talking.
The Brixton-born spoken word artist explores the current economic crisis the UK finds itself in post-pandemic, in her latest thought-provoking piece. Telixia has never had tendencies to shy away from confronting topics close to her heart; Mental health, knife crime, gang life, education, diversity – and this bold release certainly follows suit.
Economics is hard-hitting – and it's message is very much needed. It seeks to demand answers to the questions more people should be asking. It's relevant, more than ever, and it's intention is to open eyes, and open conversations around under-discussed issues that desperately need awareness, and more importantly – immediate action.
Growing up surrounded by poverty and gang life herself, Telixia has witnessed first hand the trials and tribulations she refers to, and the poet aims to use her talent to educate others on these social issues that have such devastating impacts on communities. Capitalism, homelessness, unemployment rates being at the forefront of Telixia's mind throughout this latest piece.
It was recently reported that the economic crisis caused by the pandemic in fact pushed a further 700,000 people in the UK into poverty, bringing the total number to more than 15 million. There also remains tens of thousands of Brits still overcoming the effects that loss of employment caused during the pandemic – and with the recent news of Universal Credit cuts and national insurance tax rising, Britain appears to be heading for a dangerously slippery slope.
Telixia says: "When it came to Brexit the government made a poor decision that put the whole of the UK in crisis, and now we're suffering the consequences. It's insane to think a country that once had such a strong currency is now in the state it's in. Poor leadership & greed has pushed the UK so far over the line financially that I don't know if we can ever recover. I feel it's my duty to help spread the word to my audiences that a change is needed from all of us if we want to progress and evolve as a nation."
The published author has been crafting her latest project which is set to be released in early 2022, and will feature Economics plus a handful of tracks which are due to drop before the end of the year.
Economics is now available on all digital platforms